Erez Ha-Mitnachalim (The Land of The Settlers)
Erez Ha-Mitnachalim
IL, 2006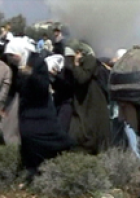 Seit 1968 bringt Fernsehmoderator Chaim Yavin (er wurde 1932 in Deutschland geboren) den Israelis jeden Abend um 21 Uhr die Nachrichten ins Wohnzimmer. Doch vor rund drei Jahren tauschte er seinen Moderatorenstuhl gegen eine Videokamera aus. Mit ihr reiste er durch die Besetzten Gebiete und interviewte jüdische Siedler, Friedensaktivisten, Palästinenser, Journalisten und Vertreter von NGOs, wie Physicians for Human Rights. Chaim Yavin selbst sieht sein Vorbild im amerikanischen Reporter Walter Cronkite, der Ende der 1960er Jahre in Vietnam einen Dokumentarfilm drehte, mit dem er den US-Militäreinsatz anprangerte.


Produced and directed by Chaim Yavin, Israel´s foremost television personality since the inception of television in Israel, this documentary is a personal travelogue through the Occupied Territories made during the past three years. Shooting all the footage by himself with a small DV hand held camera, it was a daring, undertaking, not only because of the personal risk involved, but also due to the fact that Chaim Yavin took a stand against the settlers, exposing himself to some ferocious criticism that he has lost his objectivity.
Powered by
Regie:Chaim Yavin

Kamera:Chaim Yavin

Autor:Chaim Yavin
Für diesen Film gibt es leider keine Vorstellungen.