Puebla Panama Plan - The Conquest Continues
MEX, 2005
Viideodokumentation über den Kampf gegen den Puebla Panama Plan (PPP)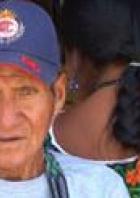 Video documentary about the popular and indigenous struggle against the Puebla Panama Plan (PPP). PPP is an neoliberal infrastructural Project that tend to connect the region between State of Puebla (Mexico) and Panama for capitalist exploitation. Privatizations of the public sector, megaprojects as the construccion of dams, aireports and piplines and biopiraty are one of the aims that tend to disepel millions of people in the region. Indigenous and popular struggle arised to confront with this project in whole of Central America.

The documentarie shows different perspectives, popular, academic and officials views on the PPP and is focused on the social movements in the region and their local, nacional and transnacional struggle.

Originally the movie was produced to reduce the lack of information about the PPP in the region, to place a critical view on it, and in generall, to cover one of the basic human rights - the access to information. The movie is shown in affected indigenous communities as popular information material as well as in universities and iniciatives of the citizen sector around the world.
Kaufen & Leihen
Leider konnten wir keine Streaming-Angebote für Puebla Panama Plan - The Conquest Continues finden.
Für diesen Film gibt es leider keine Vorstellungen.