Da Ali G Show
Da Ali G Show
United Kingdom, United States,
Da Ali G Show is the name of two related satirical TV series created by and starring English comedian Sacha Baron Cohen and featuring the character Ali G. The first series originally aired on Channel 4 in the UK, and the second series on HBO in the US. The second series was known as Ali G in da USAiii in the UK and Australia. In the series, Baron Cohen plays as three unorthodox journalists — the main character Ali G, a Kazakh named Borat Sagdiyev, and a gay Austrian named Brüno Gehard. The trio conduct interviews with unsuspecting people, during which they ask absurd and ridiculous questions. On 23 July 2005, HBO announced they had no plans to make an additional season of the show. Baron Cohen has gone on to make three films featuring each of his three characters from the show: Ali G Indahouse, Borat: Cultural Learnings of America for Make Benefit Glorious Nation of Kazakhstan, and Brüno.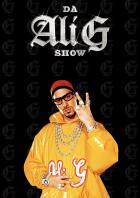 Staffeln / Episoden4 / 38
Min.30
Start03/30/2000
Kaufen & Leihen
Leider konnten wir keine Streaming-Angebote für Da Ali G Show finden.