Funny or Die Presents
Funny or Die Presents
United States,
Funny or Die Presents is a half-hour sketch comedy show that spawned from the comedy website Funny or Die, created by Will Ferrell & Adam McKay. It premiered on HBO on February 19, 2010. It is also currently being broadcast in the UK on Sky Atlantic.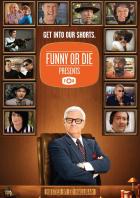 Staffeln / Episoden2 / 22
Min.30
Start02/15/2010
Kaufen & Leihen
Leider konnten wir keine Streaming-Angebote für Funny or Die Presents finden.