Baaz - A bird in danger
Indien, 2003
Indischer Thriller über eine gespaltene Persönlichkeit.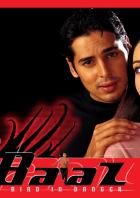 It is no longer a theory rather it has become a scientific fact, that every human being has a split personality i.e. two personalities in one. One leads you onto the right path while the other takes you in the wrong direction. This is a result of one's cultural background or knowledge base, and also due to genetic factors. Our story revolves around such a person with a split personality. A person, who is a good human being for his education and culture, but his genetics, has transformed him into a human 'Baaz'. This human 'Baaz' resides in the scenic hill station town of Nainital. Neha Chopra, an interior decorator is hired by Mayor Jai Singh Dabral to beautify his old bungalow. But she is least aware that the human 'Baaz' is all set to make her a prey. Who is this 'Baaz'? Is it the Mayor Jai Singh Dabral or her neighbour in town Raj Singh or is it Harshvardhan? Nonetheless, all three are in love with the beautiful Neha, which means... one wants to make her his prey and the other two want to save her from the clutches of the human "Baaz". Preeti Rastogi, who is entangled with these four, is a well wisher of Neha. Preeti, who comes to know the secret of the human 'Baaz' but in doing such a daring act, loses her life... and the secret continues to remain. So, does Neha fall prey to 'Baaz'... Who is the human 'Baaz'?
Kaufen & Leihen
Leider konnten wir keine Streaming-Angebote für Baaz - A bird in danger finden.
Schauspieler:Jackie Shorff, Suniel Shetty, Karisma Kapoor

Regie:Tinu Verma

Kamera:Raju Kaygee

Autor:Shyam Goel

Musik:Ismail Darbar
Für diesen Film gibt es leider keine Vorstellungen.