Blue Crush
Blue Crush
Germany, United States of America, 2002
Nothing gets between Anne Marie and her board. Living in a beach shack with three roommates, she is up before dawn every morning to conquer the waves and count the days until the Pipe Masters competition. Having transplanted herself to Hawaii with no one's blessing but her own, Anne Marie finds all she needs in the adrenaline-charged surf scene - until pro quarterback Matt Tollman comes along...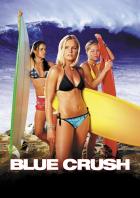 Schauspieler:Kate Bosworth, Matthew Davis, Michelle Rodriguez, Sanoe Lake, Mika Boorem, Chris Taloa, Kala Alexander, Ruben Tejada, Kaupena Miranda, Asa Aquino, Faizon Love, Fiji, Shaun Robinson, Paul Hatter, Tamayo Perry

Regie:John Stockwell, Brenda Lopez

Kamera:David Hennings

Autor:John Stockwell, Lizzy Weiss

Musik:Paul Haslinger, Dana Sano
Für diesen Film gibt es leider keine Vorstellungen.