Le Gendarme de Saint-Tropez
Le Gendarme de Saint-Tropez
France, 1964
The ambitious police officer Cruchot is transferred to St. Tropez. He's struggling with crimes such as persistent nude swimming, but even more with his teenage daughter, who's trying to impress her rich friends by telling them her father was a millionaire and owned a yacht in the harbor.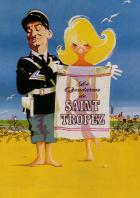 Powered by
Schauspieler:Louis de Funès, Geneviève Grad, Michel Galabru, Daniel Cauchy, Maria Pacôme, Claude Piéplu, Madeleine Delavaivre, Gabriele Tinti, Michelle Wargnier, Christian Marin, Jean Lefebvre, Jean-Pierre Bertrand, Sylvie Bréal, Martine de Breteuil, Evelyne Céry, Jean Droze, Norma Dugo, Jacques Famery, Patrice Laffont, Guy Grosso, Maurice Jacquin, Claudia Lebail, Michel Modo, Giuseppe Porelli, Nicole Vervil, Franck Vilcour, Fernand Sardou, France Rumilly, Sacha Briquet, Pierre Barouh, Jean Girault, Paul Bisciglia, Henri Arius, Jean Panisse

Regie:Jean Girault, Marc Simenon, Jean Mylonas

Kamera:Marc Fossard

Autor:Richard Balducci, Jean Girault, Jean Girault, Jacques Vilfrid, Jacques Vilfrid, Jacques Vilfrid

Musik:Raymond Lefevre
Für diesen Film gibt es leider keine Vorstellungen.