Ein einmaliges, einzigartiges Ein-Tages-Festival mit Live-Musik, Lesungen und Projektionen im Saal des Gartenbaukinos.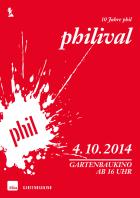 Live on Stage:



B.Fleischmann (phils like heaven)

SirTralala (can't lose that phil)

Tex Rubinowitz (phils like a dog)

Attwenger (phil fine)

Patrick Pulsinger (phils 4 u)

Der Nino aus Wien (how does it phil?)

Karuan (phils fine)

maschek. (phil free)

Fijuka (like the way you make them phil)

Bernhard Eder (phils you)

Violetta Parisini (phils it)

I-Wolf (phils love)

Tanz Baby! (phil real love)

Teresa Präauer



DJs:


Urbs

DSL

chez del

B. Fleischmann

Como




Visuals:


sound:frame Festival
Für diesen Film gibt es leider keine Vorstellungen.