Lip Sync Battle
Lip Sync Battle
United States,
Each episode features two A-list celebrities like you've never seen them before - syncing their hearts out in hysterically epic performances. Hosted by LL Cool J with colorful commentary by social media maven and supermodel co-host, Chrissy Teigen. The mic is off, the battle is on!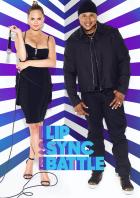 Staffeln / Episoden6 / 99
Min.25
Start04/02/2015
Kaufen & Leihen
Leider konnten wir keine Streaming-Angebote für Lip Sync Battle finden.