My 600-lb Life
My 600-lb Life
United States,
TLC's My 600-lb Life documents the seven-year journey four individuals undertake to escape obesity and regain control of their lives.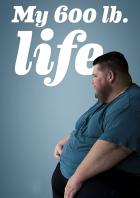 Staffeln / Episoden12 / 166
Min.120
Start02/01/2012
Kaufen & Leihen
Leider konnten wir keine Streaming-Angebote für My 600-lb Life finden.
Updates on Ashley, Donald, Henry and Melissa since their weight-loss journeys were chronicled. Included: new footage; and commentary from the show's producer.
Pivotal moments, whether tragic breaking points or ultimate triumphs, decide the success or failure of individuals struggling with extreme obesity. They must face the reality that weight-loss surgery alone is not the answer to reclaiming their lives.
Steven Assanti's dysfunction escalates, pushing his relationship with Dr. Nowzaradan to the brink, and a risky decision is made to save Steven's life, while brother Justin takes the leap to go to Houston to finally accept help.