The Grudge: Black Ghost
Ju-on: Kuroi shôjo
JP, 2009
Female horror directors are still very rare in the conservative Japanese film industry.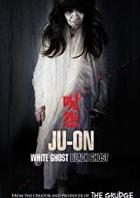 However, prolific director Mari Asato has now joined the ranks of Japanese women horror filmmakers including Kei Fujiwara, Shimako Sato and Kayoko Asakura. To commemorate the tenth anniversary of the popular Ju-on franchise, a double-feature was commissioned, and Asato wrote, produced and directed one of the features, Black Ghost. This is a supernatural ghost story centered on Nurse Yuko, who cares for Fukie, a young girl hospitalised with a stomach cyst. However, things go badly for everyone whom Fukie comes into contact with, and the story quickly escalates to take in possession, exorcism
and an unborn, vengeful twin.
Powered by
Für diesen Film gibt es leider keine Vorstellungen.