The Hitler–Stalin Pact
Le Pacte Hitler-Staline : autopsie d'un cataclysme
France, 2019
How could Hitler and Stalin, sworn ideological enemies, come to a secret pact in 1939? The captivating and detailed story of the diplomatic fiasco that led to the signing of the Nazi-Soviet pact and its devastating consequences.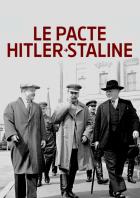 Powered by
Schauspieler:Hervé Pierre, Ivan Maisky, Maxim Litvinov, Joachim von Ribbentrop, Vyacheslav Molotov, Adolf Hitler, Joseph Stalin, Anthony Eden, Edward Wood, Earl of Halifax, Neville Chamberlain, Winston Churchill, Édouard Daladier, Hermann Göring, Benito Mussolini

Regie:Cédric Tourbe

Autor:Cédric Tourbe

Musik:Bruno Lagoarde, Bruno Lagoarde, Sarah Lelu, Peter Highspot
Für diesen Film gibt es leider keine Vorstellungen.