The Milagro Beanfield War
The Milagro Beanfield War
United States of America, 1988
In Milagro, a small town in the American Southwest, Ladd Devine plans to build a major new resort development. While activist Ruby Archuleta and lawyer/newspaper editor Charlie Bloom realize that this will result in the eventual displacement of the local Hispanic farmers, they cannot arouse much opposition because of the short term opportunities offered by construction jobs.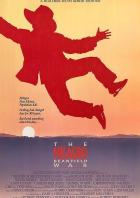 Powered by
Schauspieler:Ruben Blades, Sonia Braga, James Gammon, Melanie Griffith, John Heard, Christopher Walken, Daniel Stern, Chick Vennera, Richard Bradford, Julie Carmen, Carlos Riquelme

Regie:Robert Redford
Für diesen Film gibt es leider keine Vorstellungen.