Children Who Chase Lost Voices from Deep Below
Hoshi o ou kodomo
J, 2011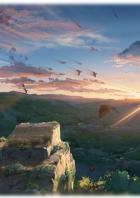 Asuna is a young girl who has been forced to grow up fast after the death of her father. While walking home one evening she is attacked by a strange, fearsome monster. A mysterious boy called Shun rescues her using the power of a crystal from an underground world called Agartha. The two quickly become friends, but then - just as quickly - Shun disappears. Shinkai's most ambitious film yet is grand in scope, spanning different worlds with beautiful and lavish visuals.
Regie:Makoto Shinkai

Autor:Makoto Shinkai

Musik:Tenmon
Für diesen Film gibt es leider keine Vorstellungen.