I Now Pronounce You Chuck & Larry
I Now Pronounce You Chuck & Larry
United States of America, 2007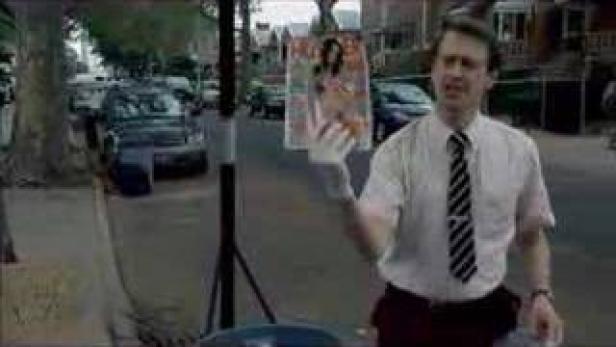 Firefighters Chuck Ford and Larry Valentine are guy's guys, loyal to the core—which is why when widower Larry asks Chuck to pose as his gay lover so that he can get domestic partner benefits for his kids, his buddy agrees. However, things get dicey when a bureaucrat comes calling, and the boys are forced to present a picture of domestic bliss.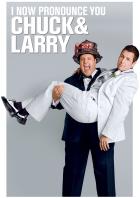 Schauspieler:Adam Sandler, Kevin James, Jessica Biel, Dan Aykroyd, Ving Rhames, Steve Buscemi, Nicholas Turturro, Allen Covert, Rachel Dratch, Nick Swardson, Richard Chamberlain, Jamie Chung, Becky O'Donohue, Shelby Adamowsky, Jessie O'Donohue, Chandra West, Jackie Sandler, Kathleen Doyle, Tila Tequila, Jina Song, Candace Kita, Lena Yada, Richard Kline, Blake Clark, Mary Pat Gleason, Matt Winston, Lance Bass, Dave Matthews, Dan Patrick, Rob Corddry, Robert Smigel, Gary Valentine, Jonathan Loughran, Peter Dante, Michael Buscemi, J.D. Donaruma, Cole Morgen, Brad Grunberg, Marc Vann, Rob Schneider, David Spade

Regie:Dennis Dugan, Jamie Marshall, Nancy Karlin, Carlos De La Torre, Thomas Coe

Kamera:Dean Semler, Ian Fox, Jack Serino, Gary L. Camp, Gary L. Camp, Richard Merryman, Andrew Rowlands, Andrew Rowlands, Chad Rivetti, Tim Nagasawa, Tony Rivetti, Fred L. McLane, Tracy Bennett, Brandon Ponticelle, Raul Riveros, William 'Bear' Paul, Michael S. Epley, Michael P. Catanzarite, Jason Winger, Roger Wall, John Murphy, Rodney Sandoval, Pablo Santiago-Brandwein, John Hale, Tony T. Thomas, Richard Allen, Balentin Cruz

Autor:Jim Taylor, Barry Fanaro, Alexander Payne

Musik:Rupert Gregson-Williams, Elmo Weber, Catherine Harper, Christopher Moriana, J.J. George, Derek Vanderhorst, Michael Dilbeck, David Bach, Richard Kite, Hugo Weng, Paul Berolzheimer, Piero Mura, Anthony Ortiz, Russell Farmarco, Marc Glassman, Cameron Steenhagen, Brooks Arthur, Howard London, Stuart Grusin, Thomas Causey, Matthew P. Hanson, Darrin Mann, David Weisberg
Für diesen Film gibt es leider keine Vorstellungen.