Empire
Empire
United States,
In der US-Serie "Empire" ist Lucious Lyon (Terrence Howard) der charismatische und gerissene Chef der Plattenfirma Empire Entertainment. Lucious ist auf den Straßen aufgewachsen und hat dabei gelernt, sich durch nichts und niemanden von seinen Zielen aufhalten zu lassen und vor keiner Auseinandersetzung zurückzuschrecken - insbesondere, wenn es um sein Musikimperium geht. Doch alles ändert sich als er erfährt, dass er eine ernste Krankheit hat und vor seinem absehbaren Tod einen Nachfolger für sein Imperium finden muss. Nun steht er vor der schwierigen Wahl, welcher seiner drei Söhne Empire Entertainment übernehmen soll: Andre (Trai Byers), Jamal (Jussie Smollett) oder Hakeem (Bryshere Gray).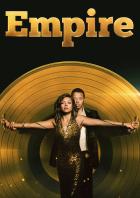 Staffeln / Episoden6 / 102
Min.43
Start01/07/2015
Kaufen & Leihen
Leider konnten wir keine Streaming-Angebote für Empire finden.
Schauspieler:Terrence Howard, Taraji P. Henson, Bryshere Y. Gray, Trai Byers, Gabourey Sidibe, Vivica A. Fox

Regie:Lee Daniels, Danny Strong
Nachdem bei Musik-Mogul Lucious Lyon (Terrence Howard) eine tödliche Krankheit festgestellt wird, muss er entscheiden, welcher der drei Söhne seine legendäre Plattenfirma "Empire Entertainment" übernehmen soll. Die Spielregeln ändern sich als seine ehemalige Geschäftspartnerin und Exfrau Cookie (Taraji P. Henson) wegen guter Führung vorzeitig aus dem Gefängnis entlassen wird und sie Anspruch erhebt. Der gefährliche Konkurrenzkampf um Macht und Ruhm beginnt, nicht nur zwischen Lucious und Cookie …
Lucious Lyon is the head of a music empire whose reign has been unchallenged for years. But all that changes when he learns he has a disease and must choose one of his three sons to take over: Andre, Jamal or Hakeem. Complicating matters is their mother and Lucious' ex-wife, Cookie, who emerges from prison to claim her share.
Lucious has to defend Empire's IPO launch after one of his artists is involved in a shooting; Cookie hears about Lucious' plans for a huge performance for Hakeem, but not Jamal; Bunkie's murder is investigated.
The Lyons head to Philadelphia and get a taste of what their life could have been if Lucious hadn't made it big. Lucious promotes Hakeem's new relationship with hip-hop star Tianna, but tensions rise when another woman tries to catch Hakeem's eye.
Lucious attempts to steal a super-hot, chart-topping artist from his rival at Safe House Records. Meanwhile, Jamal struggles to compose original music and Cookie tries to forge a relationship with her estranged son, Hakeem.
Cookie receives an anonymous gift from an admirer that she believes might be a veiled threat from a person from her prison past. Meanwhile, Lucious takes charge of Hakeem's first video shoot.
Vernon is caught in the middle of a very sticky situation. Meanwhile, Jamal is rising to stardom, but his newfound drive and ambition might stir up trouble in his relationships. To make matters worse, a mystery woman (guest star Raven Symone) from the family's past shows up with a huge surprise.
Tension mounts between Hakeem and Jamal, as Lucious attempts to brand Empire Entertainment as a tight-knit, "family-run" company. Meanwhile, Cookie and Anika don't hold anything back when it comes to taking over the company.
It's time for the Lyon family to come together and record a legacy album with Lucious, Hakeem and Jamal. Cookie and Camilla finally come face-to-face, Andre struggles with some inner demons and Jamal steps into the spotlight with news that surprises everyone.
It's an all-out war when Cookie uncovers Anika's big backstabbing secret, and Lucious must come face-to-face with his longtime rival, Billy Beretti. As the Lyon family rallies to save Empire Entertainment, all three sons take drastic measures: Jamal gets close with famous artist Delphine, Hakeem works hand-in-hand with Cookie and Andre is pushed way beyond his limits.
Andre forms a new musical relationship with Michelle, and a woman from Lucious' past, Angie, comes into the picture. Meanwhile, Lucious invites the whole family over to his home. However, everyone arrives with their own agendas. Hakeem, under the influence of Camilla, sets out to show his father that he's a true artist and a good businessman. Then, Cookie prepares to state her own agenda for Empire and for her family, when Olivia arrives.
Jamal and Lucious are on their way to forming a music-centered relationship, but once again, Lucious has a secret that's about to change everything.
Hakeem decides to flirt with the enemy, while trying to figure out what the best move is for his career. Meanwhile, Cookie is cooking up a plan of her own.