Sanctuary
Himmelsdalen
Sweden,
Hel receives an invitation to visit her estranged twin Siri at an exclusive residential sanatorium set against the idyllic setting of the Italian Alps. Tension soon rises when Hel refuses Siri's plea for help in taking care of some business by swapping places with her for a few days. Much to her horror, Hel wakes up the next day to find Siri gone. She soon realizes that Siri isn't coming back, and that the clinic is far from a place of recovery.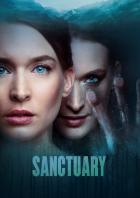 Staffeln / Episoden1 / 8
Min.45
Start05/31/2019
Kaufen & Leihen
Leider konnten wir keine Streaming-Angebote für Sanctuary finden.
Helena and her twin sister Siri have long lived separate lives. When a reunion approaches, Helena thanks and travels to an idyllic resort in the Italian Alps, but it quickly turns out that Siri has her own agenda with her invitation.
Helena becomes painfully aware of Himmelsdalens main activity. Desperately, she tries to prove her true identity, but the staff of the institution dismiss her claims as another of Siri's manipulative tricks.
Doctors disagree on how to interpret "Siris" sudden behavioral improvement. Helena realizes that she can take advantage of her fellow prisoners' fear of Siri and get to know a secret organization that can pave the way for a possible escape.
The doctors' actions suggest that they are beginning to take Helena's story seriously, but in fact they are just looking to confirm their own theories of treatment. Enzo understands that Helena speaks truth and shares her escape plan.
The young guide turns out to be anything but trustworthy, but confidence in Enzo exists. Helena gets valuable information about her sister during the sessions with Silva and a new plan to prove her identity is beginning to take shape.
Helena gets a life sign from Siri for the first time, which apparently has no plans to return. The flight is close, but first another risky mission awaits, as Helena refuses to leave the Valley of Heaven without having found the hammer.
Helena's newly won expectations are crushed when she is reached by the news of her own death, but suddenly Margot emerges with a new spark of hope. At the same time, Redpath and Fischer are trying to clear evidence in the hope of saving the facility's reputation.
Season finale. Helena wins over Silva on her side, but an accident happens when he tries to leave the facility. Now it remains only for Helena and Enzo to carry out their escape attempt - and they are both prepared to do so at all costs.