Johnny Depp und Christina Ricci spielen die Hauptrollen in der Adaption des Halloween-Klassikers vom "kopflosen Reiter".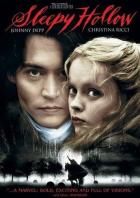 Ein Grusel-Spektakel, das nicht nur den Zuschauer das Fürchten lehrt!
"Sleepy Hollow," a suspenseful and sweeping tale, is a Paramount Pictures and Mandalay Pictures presentation. The film is directed by Tim Burton and stars Johnny Depp, Christina Ricci, Miranda Richardson and Michael Gambon. Inspired by Washington Irving's classic story, "Sleepy Hollow" is produced by Scott Rudin and Adam Schroeder and executive produced by Francis Ford Coppola and Larry Franco. The screenplay is by Andrew Kevin Walker and the story is by Kevin Yagher and Andrew Kevin Walker. The film also stars Casper Van Dien, Jeffrey Jones, Richard Griffiths, Ian McDiarmid, Michael Gough, Lisa Marie, Marc Pickering, Steve Waddington and Christopher Walken. Paramount Pictures is part of the entertainment operations of Viacom, Inc.

Set in 1799, "Sleepy Hollow" is based on Washington Irving's classic tale The Legend of Sleepy Hollow. Faithful to the dreamy custom-bound world that Irving paints in his story, the film mixes horror, fantasy and romance and features an extraordinary cast of characters that dabble in the supernatural. In essence, it is perfect material for director Tim Burton.
Schauspieler:Johnny Depp, Christina Ricci, Christopher Walken, Casper Van DienMiranda Richardson

Regie:Tim Burton

Kamera:Emmanuel Lubetzki

Autor:Washington Irving, Tom Stoppard

Musik:Danny Elfman
Für diesen Film gibt es leider keine Vorstellungen.