Der Mafu-Käfig
The Mafu Cage
USA, 1978
Monkeys. Madness. Murder.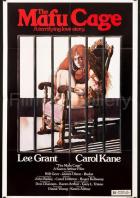 Directed by Karen Arthur, The Mafu Cage is a truly bizarre tale of two sisters, Ellen and Cissy, who are in a symbiotic, abusive, and enabling sexual relationship. Their father was an anthropologist who collected African objects. Now deceased, the sisters live together in his mansion, and Cissy has a "mafu" (monkey) cage in the living room, where she keeps her simian subjects. But one day, Ellen's new boyfriend David comes to the house, and Cissy decides she needs a human "mafu"… For critic Kier-La Janisse, The Mafu Cage is "one of the most compelling and uniquely dark filmsof the psychotic woman subgenre." Watch this screening to find out why.
Powered by
Für diesen Film gibt es leider keine Vorstellungen.