For Love or Money
For Love or Money
United States of America, 1993
New York concierge Doug Ireland wants to go into business for himself and refurbish a hotel on Roosevelt Island, N.Y., but he needs an investor. With a few weeks left before his option on the site runs out, Doug agrees to help wealthy Christian Hanover conceal his affair with salesgirl Andy Hart from his wife. Despite his own attraction to Andy, Doug tries to stay focused on getting Christian to invest $3 million in his project.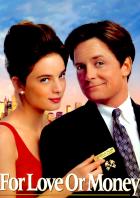 Powered by
Schauspieler:Michael J. Fox, Gabrielle Anwar, Anthony Higgins, Fyvush Finkel, Sandra Reaves-Phillips, LaChanze, Mike Moyer, Saverio Guerra, Daniel Hagen, Paula Laurence, Donna Mitchell, Debra Monk, Michael Tucker, Bob Balaban, Isaac Mizrahi, Dan Hedaya, Simon Jones, Udo Kier, Patrick Breen, Diane Brill, Susan Blommaert, Nicole Beach, Susan Ringo, John Cunningham, Ann McDonough, Richmond Hoxie, Alice Playten, Erick Avari, Douglas Seale, David Lipman, Le Clanché du Rand, Anne Lange, Salem Ludwig, Louis Cantarini, Hikari Takano, Jed Krascella, Gabor Morea, Beverly Peer, Rob Scott, Mark Zimmerman, Al Cerullo, Dan Brennan, Francis Dumaurier, Bobby Short, Suzanne O'Neill, Tim Gallin, Steven Randazzo, Steve Ames, Harry Elgin, Alvin Alexis, Nick Cosco, Jane Deacy, Cynthia Bailey, Anna Bayle, Danya, Angelika Kallio, Kimora Lee, Melanie Landestoy, Kimberly Marler, Marpessa, Teresa Stewart, Akure Wall, Veronica Webb

Regie:Barry Sonnenfeld

Kamera:Oliver Wood

Autor:Lawrence Konner, Mark Rosenthal

Musik:Bruce Broughton
Für diesen Film gibt es leider keine Vorstellungen.