Semi-Pro
Semi-Pro
United States of America, 2008
Jackie Moon is the owner, promoter, coach, and star player of the Flint Michigan Tropics of the American Basketball Association (ABA). In 1976 before the ABA collapses, the National Basketball Association (NBA) plans to merge with the best teams of the ABA at the end of the season. Only the top four teams will make the move and the worst teams will fold. The Tropics are the worst team in the league and if they want to make it to the NBA, Jackie Moon must rally his team and start winning. The only problem is the fact that Jackie Moon is not really the coach and star basketball player he thinks he is. To keep his team from oblivion and leave his mark in the city, Jackie Moon must inspire his team to win fourth place in the playoffs.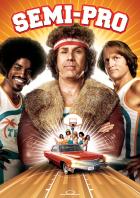 Powered by
Schauspieler:Will Ferrell, Woody Harrelson, Andre Benjamin, Maura Tierney, Andrew Daly, Will Arnett, Andy Richter, David Koechner, Rob Corddry, Matt Walsh, Jackie Earle Haley, DeRay Davis, Josh Braaten, Jay Phillips, Peter Cornell, Pat Kilbane, Patti LaBelle, Tim Meadows, Jason Sudeikis, Kristen Wiig, Ellia English, Ian Roberts, Phil Hendrie, Ed Helms, Brian Huskey, Paul Rust, Charlyne Yi, Collette Wolfe, Kate Luyben

Regie:Kent Alterman

Autor:Scot Armstrong
Für diesen Film gibt es leider keine Vorstellungen.