The Night Of - Die Wahrheit einer Nacht
The Night Of
United States,
Im Mittelpunkt der Geschichte von The Night Of befindet sich der Student Nasir Khan, der pakistanischer Abstammung ist und in Jackson Heights, einem Viertel in Queens, lebt. Als er eines Tages auf eine College-Party eingeladen wird, borgt er sich ohne zu Fragen, das Taxi seines Vaters - letzten Endes soll er die angestrebte Örtlichkeit jedoch nie erreichen, da er unterwegs einer jungen Frau begegnet, mit der er den Abend verbringt Als Nasir wenige Stunden später aus dem Schlaf erwacht, muss er mit Erschrecken feststellen, dass von seiner Begleitung nur noch eine blutüberströmte Leiche übrig ist.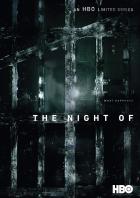 Staffeln / Episoden1 / 8
Min.50
Start07/10/2016
Kaufen & Leihen
| Anbieter | Resolution | Preis | |
| --- | --- | --- | --- |
| Google Play | 1080p | € 2.99 | Zum Angebot |
What starts as a perfect night for Pakistani-American student Nasir "Naz" Khan becomes a nightmare when he's arrested for murder.
As attorney John Stone counsels Naz, lead detective Dennis Box investigates the crime.
Awaiting his formal arraignment at Rikers Island, Naz realizes that his survival, or perhaps his demise, rests with a particular inmate, Freddy.
Stone works to uncover information about the crime.
Box reconstructs Naz's whereabouts on "the night of."
As prosecutor Helen Weiss prepares for trial, Naz's alliance with Freddy deepens.
The trial of The State v. Nasir Khan moves to the defense phase.
A controversy surrounding the defense puts Stone in the spotlight as Naz's trial reaches its climax.