The Nameless Days
The Nameless Days
United States of America, 2021
On the border between the United States and Mexico, once every 20 years, there are days that locals call timelessness. It is said that at this time the gods, to whom the ancient Mayan tribes made sacrifices, descend to earth to take human souls. A group of young people find themselves in the very epicenter of a bloody hunt of mysterious creatures. Will they be able to survive the timelessness?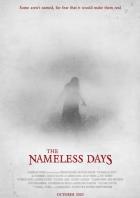 Kaufen & Leihen
Leider konnten wir keine Streaming-Angebote für The Nameless Days finden.
Schauspieler:Alexia Ioannides, Charles Halford, Andrew Roach, Ashley Marian Ramos, Ambyr Mishelle, Ali Kinkade, Trey Warner, Jeff Dickamore, Alejandro Akara

Regie:Andrew Mecham, Matthew Whedon

Kamera:Ryan Hannah

Autor:Andrew Mecham, Matthew Whedon

Musik:Thomas Ouziel, Kennedy Phillips, Hamed Hokamzadeh, Fabian Casual, Jason Stevens
Für diesen Film gibt es leider keine Vorstellungen.