The Purple Plain
The Purple Plain
United Kingdom, 1954
A RAF airfield in Burma in 1945, during World War II. Canadian bomber pilot Bill Forrester is a bitter man who lives haunted by a tragic past. He has became a reckless warrior, and is feared by his comrades, who consider him a madman. Dr. Harris, the squadron physician, is determined to help him heal his tormented soul.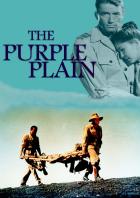 Schauspieler:Gregory Peck, Win Min Than, Brenda De Banzie, Bernard Lee, Maurice Denham, Lyndon Brook, Anthony Bushell, Josephine Griffin, Ram Gopal, Jack McNaughton, Harold Siddons, Mya Mya Spencer, John A. Tinn, Soo Ah Wong, Lane Meddick

Regie:Robert Parrish, David W. Orton, Joan Foster

Kamera:Geoffrey Unsworth, James Bawden

Autor:Eric Ambler, H. E. Bates

Musik:Harry Miller, Eric Boyd-Perkins, Muir Mathieson, Gordon K. McCallum, John Veale, Dudley Messenger
Für diesen Film gibt es leider keine Vorstellungen.