The Souvenir Part II
The Souvenir Part II
Ireland, United Kingdom, United States of America, 2021
In the aftermath of her tumultuous relationship with a charismatic and manipulative older man, Julie begins to untangle her fraught love for him in making her graduation film, sorting fact from his elaborately constructed fiction.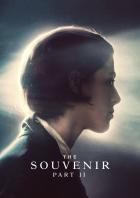 Kaufen & Leihen
Leider konnten wir keine Streaming-Angebote für The Souvenir Part II finden.
Schauspieler:Honor Swinton Byrne, Tilda Swinton, Charlie Heaton, Joe Alwyn, Harris Dickinson, Ariane Labed, Richard Ayoade, Jack McMullen, Amber Anderson, Alice McMillan, Tosin Cole, James Spencer Ashworth, Frankie Wilson, Amrou Al-Kadhi, Jaygann Ayeh, Grace Hancock, Gala Botero, Byron Broadbent, Jack W. Gregory, Annabelle Holmes

Regie:Joanna Hogg

Kamera:David Raedeker

Autor:Joanna Hogg

Musik:Aleksandra Stojanovic, Howard Bevan, Gadou Naudin, Vijay Rathinam, Jovan Ajder, Jovan Ajder, Ruben Aguirre Barba, Srdjan Kurpjel
Für diesen Film gibt es leider keine Vorstellungen.