Dionne Warwick: Don't Make Me Over
Dionne Warwick: Don't Make Me Over
United States of America, 2021
The story of the iconic singer's fascinating six-decade career in both music and Black and LGBTQ activism.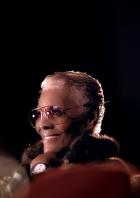 Kaufen & Leihen
Leider konnten wir keine Streaming-Angebote für Dionne Warwick: Don't Make Me Over finden.
Schauspieler:Dionne Warwick, Quincy Jones, Burt Bacharach, Clive Davis, Gladys Knight, Cissy Houston, Smokey Robinson, Olivia Newton-John, Whitney Houston, Elton John, Gloria Estefan, Bill Clinton, Berry Gordy, Melissa Manchester, Jerry Blavat, Carlos Santana, Jesse Jackson, Valerie Simpson, Damon Elliott, David Elliott, Chuck Jackson, Kenneth Cole, Charles Rangel, Kevin Robert Frost, Lonnie Bunch

Regie:David Heilbroner, Dave Wooley

Kamera:Thaddeus Wadleigh, Tom Bergmann, Ryan Balton, Chhoun Chan Rasmey

Musik:Mattias Eklund, Mattias Eklund, Deborah Mannis-Gardner
Für diesen Film gibt es leider keine Vorstellungen.