Gia
Gia
United States of America, 1998
Gia Carangi travels to New York City with dreams of becoming a fashion model. Within minutes of arriving, she meets Wilhelmina Cooper, a wise and high-powered agent who takes Gia under her wing. With Cooper's help and her own natural instincts, Gia quickly shoots to the top of the modeling world. When Cooper dies of lung cancer, however, Gia turns to drugs – and both she and her career begin to spiral out of control.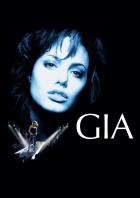 Powered by
Schauspieler:Angelina Jolie, Elizabeth Mitchell, Eric Michael Cole, Kylie Travis, Mercedes Ruehl, Mila Kunis, Faye Dunaway, Louis Giambalvo, John Considine, Scott Cohen, Edmund Genest, Holly Baker, Joe Basile, Rick Batalla, Lombardo Boyar, Jules Douglas, Holly Sampson, Drinda Lalumia, Vylette Fagerholm, Adina Porter, Johnny Green

Regie:Michael Cristofer

Autor:Michael Cristofer, Jay McInerney

Musik:Terence Blanchard
Für diesen Film gibt es leider keine Vorstellungen.