The Desert Project
The Desert Project
United States of America, 2021
Ida and her friend Rebecca return to Ida's house after a harrowing day in the desert where their film-crew friends vanish. Through some quirk in technology it appears they went back in time where Ida's then 20-year-old father kills a crew member during a fight. Ida takes Rebecca to her father's workshop where they look at an old 16mm black-and-white film that captures the fragments of events from that day... a 35 years ago.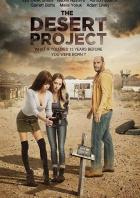 Kaufen & Leihen
Leider konnten wir keine Streaming-Angebote für The Desert Project finden.
Schauspieler:Ilya Tank Shilov, Naomi Navarre, Ashton Solecki, Garrett Botts, Melis Yoruk, Adam C. Lively, Trevor Mcleroy, Kyle Colton, Ylva Cecilia Waern, Robert Olsen, Wesley Dean, Sé Marie, Jon W Harris, Joe Amato

Regie:Ilya Tank Shilov

Kamera:Jaan Kristjan Utno

Autor:James Brandt, Ilya Tank Shilov

Musik:Brad Bryan, Ilya Tank Shilov, Maggie McCoy, Tim Reinink, Hassan Saleem Brooks
Für diesen Film gibt es leider keine Vorstellungen.