Bulletproof
Bulletproof
United States of America, 1996
An undercover police officer named Rock Keats befriends a drug dealer and car thief named Archie Moses in a bid to catch the villainous drug lord Frank Coltan. But the only problem is that Keats is a cop, his real name is Jack Carter, and he is working undercover with the LAPD to bust Moses and Colton at a sting operation the LAPD has set up.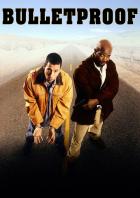 Powered by
Schauspieler:Damon Wayans, Adam Sandler, James Caan, Jeep Swenson, James Farentino, Kristen Wilson, Larry McCoy, Allen Covert, Bill Nunn, Monica Potter, Andrew Shaifer, Garret Sato, Mark Roberts, Mark Casella, Jonathan Loughran, Steve White, Gwen McGee, Bill Capizzi, Charmaine Craig, Jill Holden, Xander Berkeley, Sal Landi, David Labiosa, Conrad Goode, Maury Sterling, Scott Hoxby, Victor Aaron, Jacqui Dickerson, Donna M. Duffy, Janice Rivera, Loetta Earnest, Cindy Barrera, Ford Scott, John Decker

Regie:Ernest R. Dickerson, Jono Oliver, Faith Conroy, Randy Fletcher

Kamera:Steven Bernstein, Kirk R. Gardner, Daniel C. Gold, Rick Harris, Gary Brostrom, Kenny Davis

Autor:Lewis Colick, Joe Gayton, Joe Gayton

Musik:Elmer Bernstein, Michael Dilbeck, Jim Stuebe
Für diesen Film gibt es leider keine Vorstellungen.