Stateless
Stateless
Australia,
Die Stewardess Sofie Werner (Yvonne Strahovski) ergreift die Flucht vor ihrem Leben und ihrer Familie. Ihre Sinnkrise treibt sie direkt in die Fänge einer Sekte für Selbstoptimierung. Als Sofie erkennt was wirklich hinter der Sekte steckt, ergreift sie erneut die Flucht. Sie wird von den Behörden ergriffen und in ein Flüchtlingslager gebracht. Hier treffen mehrere Schicksale und Menschen aufeinander, die durch ein fehlerhaftes System an den Rande des Wahnsinns getrieben werden.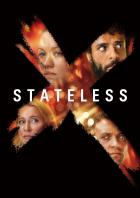 Staffeln / Episoden1 / 6
Min.50
Start03/01/2020
Kaufen & Leihen
Leider konnten wir keine Streaming-Angebote für Stateless finden.
Schauspieler:Yvonne Strahovski, Asher Keddie, Jai Courtney, Fayssal Bazzi, Marta Dusseldorp, Cate Blanchett, Dominic West, Darren Gilshenan, Kate Box, Rachel House, Clarence John Ryan, Claude Jabbour, Dan Spielman, Maria Angelico, Chrissie Page

Regie:Cate Blanchett, Tony Ayres, Elise McCredie
Die deutschstämmige Flugbegleiterin Sofie Werner flieht vor ihrem Leben, in dem sie von ihren Eltern bevormundet wird. Sie landet in einer obskuren Sekte. Nachdem Sofie erkannt hat, was wirklich hinter der Sekte steckt, flieht sie erneut. Auf der Flucht wird sie von den australischen Behörden festgenommen und in ein Internierungslager für Flüchtlinge gebracht. Dort trifft sie eine vierköpfige afghanische Familie, den australischen Familienvater Cam, der dort als Wache arbeitet, und auf die Regierungsbeamtin Clare, die von der Regierung dazu abkommandiert wurde, die Probleme im Flüchtlingslager zu lösen.
Four strangers' lives collide at an immigration detention centre: a woman escaping a cult, a refugee, a father leaving a job, and a bureaucrat on the verge of scandal.
Ambitious bureaucrat Clare Kowitz arrives at Barton as the new General Manager and is struck by the extent of the facility's dysfunction. Ameer finally makes it to Australia only to discover tragic news awaits him.
Clare's relentless hunt for the leak in Barton pays off, while Cam wrestles with his conscience over the beaten detainee. Sofie uncovers an ambitious escape plan, and Mina tries to support her grief-stricken father.
A peaceful protest turns chaotic as detainees break out of Barton and Clare struggles with the fallout. Cam discovers Janice is harbouring the escapees and Ameer tries to keep the secret of how he made it to Australia.
Tensions run high as Clare struggles to keep control of Barton. Sofie's mental health deteriorates as the memory of what Gordon did to her is resurrected. Ameer's lies come undone, putting his visa chances in severe jeopardy.
Margot makes an important discovery that leads her to believe that Sofie is imprisoned at Barton. Clare cuts a deal with Ameer that will change his and Mina's futures. While Cam faces the repercussions of his past decisions.