The Princess and the Warrior
Der Krieger und die Kaiserin
Germany, 2000
Young nurse Sissi lives a secluded life entirely devoted to her patients at Birkenhof asylum. Her first encounter with ex-soldier and drifter Bodo has a lasting impact. He causes an accident in which he provides first aid, Sissi wonders if he may be the man of her dreams. But when she finds him weeks later she is rejected, as Bodo is stuck somewhere between a traumatic past and a criminal future.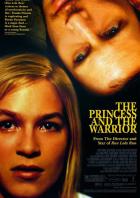 Kaufen & Leihen
| Anbieter | Resolution | Preis | |
| --- | --- | --- | --- |
| Apple iTunes | 576p | € 3.99 | Zum Angebot |
Schauspieler:Franka Potente, Benno Fürmann, Joachim Krol, Lars Rudolph, Ludger Pistor, Jürgen Tarrach, Natja Brunckhorst, Marita Breuer, Melchior Derouet, Christa Fast, Susanne Bredehöft, Gottfried Breitfuß, Sybille J. Schedwill

Regie:Tom Tykwer

Kamera:Frank Griebe

Autor:Tom Tykwer

Musik:Tom Tykwer, Johnny Klimek, Reinhold Heil
Für diesen Film gibt es leider keine Vorstellungen.