Ein Jahr vogelfrei!
The Big Year
United States of America, 2011
Für den alljährlichen Wettbewerb "North American Big Year" legen sich ehrgeizige Vogelbeobachter mächtig ins Zeug, um möglichst viele seltene Vögel in den USA aufzuspüren. Sie reisen dazu 365 Tage lang quer über den Kontinent, bis nach Kanada. Diesmal treten ein verbissener Bauunternehmer aus New Jersey, der seinen letztjährigen Titel verteidigen will, ein zurückhaltender Firmenchef aus Colorado und ein Computerfreak aus Maryland gegeneinander an.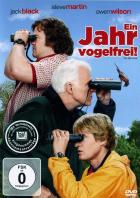 Powered by
Schauspieler:Jack Black, Steve Martin, Owen Wilson, John Cleese, Rosamund Pike, Kevin Pollak, Joel McHale, Zahf Paroo, Stacey Scowley, Michael Karl Richards, JoBeth Williams, Paul Campbell, Cindy Busby, Greg Kean, Eva Bourne, Bill Dow, Barry Shabaka Henley, Dianne Wiest, Brian Dennehy, Anthony Anderson, June Squibb, Craig Bockhorn, Jim Parsons, Anjelica Huston, Rashida Jones, Tim Blake Nelson, Joey Aresco, Ryan Caltagirone, Al Roker, Christopher Mann, Jan Bos, Kate Gajdosik, William Samples, Scott Patey, Marci T. House, Michael Bean, Steven Weber, Christopher Redman, Devon Weigel, Andrew Wilson, Gabrielle Rose, Calum Worthy, Terence Kelly, David Lewis, Jesse Moss, Morgan Brayton, Corbin Bernsen, Sheelah Megill, Nate Torrence, Veena Sood, Dee Jay Jackson, Calvin Lee

Regie:David Frankel, Susan Lambie

Kamera:Lawrence Sher, Murray Close, Trig Singer, John Clothier, John Clothier, Andrew D. Wilson

Autor:Howard Franklin, Mark Obmascik

Musik:Theodore Shapiro, Julia Michels, Dan DiPrima, Tom Fleischman, Bob Chefalas, Paul Urmson, Thomas S. Drescher, David Husby, Charles O'Shea
Für diesen Film gibt es leider keine Vorstellungen.