A Bridge Too Far
A Bridge Too Far
United Kingdom, United States of America, 1977
Operation Market Garden, September 1944. The Allies attempt to capture several strategically important bridges in the Netherlands in the hope of breaking the German lines.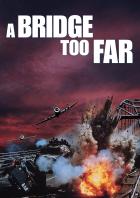 Schauspieler:Dirk Bogarde, James Caan, Michael Caine, Sean Connery, Edward Fox, Elliott Gould, Gene Hackman, Anthony Hopkins, Hardy Krüger, Laurence Olivier, Ryan O'Neal, Robert Redford, Maximilian Schell, Liv Ullmann, John Judd, Denholm Elliott, Jeremy Kemp, Wolfgang Preiss, Nicholas Campbell, Colin Farrell, Walter Kohut, Alun Armstrong, Hans von Borsody, Hartmut Becker, Michael Byrne, Garrick Hagon, John Ratzenberger, Fred Williams, Ben Cross, Arthur Hill, Edward Kalinski, Ben Howard, Donald Douglas, Tom van Beek, Siem Vroom, Marlies van Alcmaer, Erik van 't Wout, Donald Pickering, Frank Grimes, Stephen Moore, Peter Settelen, Paul Copley, Gerald Sim, Harry Ditson, Stanley Lebor, Christopher Good, Anthony Milner, Norman Gregory, Barry McCarthy, Lex van Delden, Michael Wolf, Brian Hawksley, Erik Chitty, Geoffrey Hinsliff, Sean Mathias, Tim Beekman, Hilary Minster, David English, Michael Graham Cox, Timothy Morand, James Wardroper, Stephen Rayment, Peter Gordon, Brian Gwaspari, Neil Kennedy, John Salthouse, Jack Galloway, Milton Cadman, David Auker, Jonathan Hackett, Patrick Ryecart, Richard Kane, Toby Salaman, Anthony Pullen Shaw, Edward Seckerson, Michael Bangerter, Dick Rienstra, Ian Liston, George Innes, Simon Chandler, Paul Rattee, Paul Rattee, Mark Sheridan, John Stride, Niall Padden, Shaun Curry, Sebastian Abineri, Pieter Groenier, Adrienne Kleiweg, Georgette Reyevski, Johan te Slaa, Mary Smithuysen, Hans Croiset, Henny Alma, Bertus Botterman, Josephine Peeper, Myles Reithermann, Andrew Branch, Ray Jewers, Keith Drinkel, Stephen Churchett, Richard Attenborough, Anthony Milner, John Morton

Regie:Richard Attenborough

Kamera:Geoffrey Unsworth

Autor:William Goldman, Cornelius Ryan

Musik:John Addison, Simon Kaye, Peter Horrocks, Les Wiggins
Für diesen Film gibt es leider keine Vorstellungen.