Faraway, So Close!
In weiter Ferne, so nah!
Germany, 1993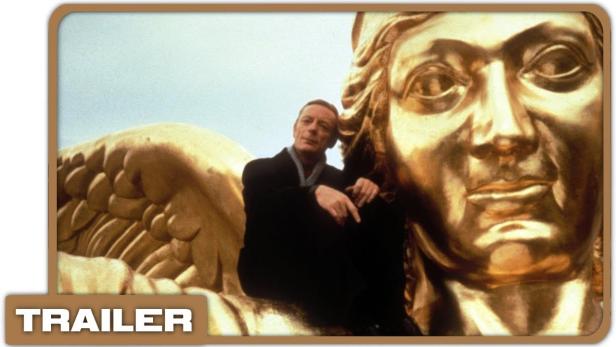 Damiel is now married to Marion, runs the pizzeria "Da Angelo" and the two have a child. The solitarily remaining angel Cassiel is more and more dissatisfied with his destiny as a mere observer of human life and finally decides to take the great leap. As Karl Engel he soon gets into a dubious milieu and finds himself as the assistant of the German American Baker, who makes his money with shady arms deals and sends porno films east in exchange for weapons. Cassiel's adventure turns into a "thriller" when he decides to put a stop to Baker's game.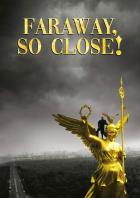 Powered by
Schauspieler:Otto Sander, Bruno Ganz, Nastassja Kinski, Peter Falk, Solveig Dommartin, Heinz Rühmann, Rüdiger Vogler, Willem Dafoe, Horst Buchholz, Martin Olbertz, Monika Hansen, Lou Reed, Hanns Zischler, Günter Meisner, Ronald Nitschke, Mikhail Gorbachev, Gerd Wameling, Matthias Zelic, Udo Samel, Aline Krajewski, Tilmann Vierzig, Antonia Westphal, Ingo Schmitz, Sascha Wohlatz, Lasse Lehmann, Marcel Jelinski, Nils Schildhauer, Patrick Winz, Benjamin Winz, Camilla Pontabry, Frédéric Darié, Jean-Marie Rase, Lajos Kovács, Bruno Krief, Armance Brown, Henri Alekan, Hugues Delforge, Claude Poncelet, Susanne Jansen, Bob Rutman, Yella Rottländer, Alexander Hauff, Andrzej Pieczynski, Natan Fyodorovsky, Louis Cochet, Johanna Penski, Steffi Hiller, Eberhard Knappe, Shefqet Namani, Klaus-Jürgen Steinmann, Nadja Engel, Daniela Nasimcova, Gunter Kelm, Heinz-Peter Graubaum, Claude Lergenmüller, Melanie Pontabry, Alfred Sczczot, Curt Bois, Esam Tolba, Tom Farrell, Kora Kirby, Sisman Mustafa

Regie:Wim Wenders, Caroline Veyssière, Scott Kirby, Anyon Rey, Katrin Mehlhop

Kamera:Jürgen Jürges, Hagen Bogdanski, Jörg Widmer, Jörg Widmer, Martina Radwan, Benjamin Dernbecher, Claus Gerling, Ralf Leistl, Andreas Neubauer

Autor:Wim Wenders, Richard Reitinger, Ulrich Zieger, Daniel Ganz, Lothar Trolle

Musik:Graeme Revell, Matthias Lempert, Michael Kranz, David Darling, Laurent Petitgand, Tommy Goodwin, Hans-Walter Kramski, Jane Siberry, Bernd Schmidl, Gunther Kortwich, Andreas Walther, Klaus Bölitz, Irene Maas
Für diesen Film gibt es leider keine Vorstellungen.