Playing God
Playing God
United States of America, 1997
Stripped of his medical license after performing an operation while high on amphetamines, famed LA surgeon Dr Eugene Sands abandons his former life only to find himself crossing paths with Raymond Blossom, an infamous counterfeiter. Employed as a "gun-shot doctor" when Raymond's associates cannot risk visiting a hospital, Eugene is lured deep into the criminal world and becomes entangled with his boss's girlfriend.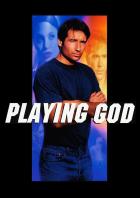 Powered by
Schauspieler:David Duchovny, Timothy Hutton, Angelina Jolie, Michael Massee, Stacey Travis, Bob Jennings, Peter Stormare, John Hawkes, Tracey Walter, Andrew Tiernan, Gary Dourdan, Will Stewart, Philip Moon, Pasha D. Lychnikoff, Sandra Kinder, Keone Young, John Roselius, Dan Hildebrand, Melvin Jones

Regie:Andy Wilson

Kamera:Anthony B. Richmond

Autor:Mark Haskell Smith

Musik:Richard Hartley
Für diesen Film gibt es leider keine Vorstellungen.