The Other Side of the Wind
The Other Side of the Wind
France, Iran, United States of America, 2018
Jake Hannaford, der im Hollywood der goldenen Ära große Erfolge gefeiert hatte, plant kurz vor seinem 70. Geburtstag mit seinem neuen Projekt The Other Side of the Wind ein Comeback. Er dreht einen Avantgardefilm, der sich mit greller Inszenierung und großzügigen Sexszenen auch auf den gewandelten Zuschauergeschmack des New Hollywood-Kinos einstellt. Die Dreharbeiten gerieten allerdings ins Stocken, als der junge Hauptdarsteller John Dale wütend vom Filmset stürmte und nicht mehr zurückkehrte. Nun ist die Zukunft des Filmprojektes gefährdet...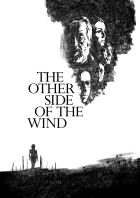 Powered by
Schauspieler:John Huston, Oja Kodar, Peter Bogdanovich, Susan Strasberg, Norman Foster, Robert Random, Lilli Palmer, Edmond O'Brien, Mercedes McCambridge, Cameron Mitchell, Paul Stewart, Gregory Sierra, Tonio Selwart, Dan Tobin, Joseph McBride, Dennis Hopper, John Carroll, Stafford Repp, Geoffrey Land, Pat McMahon, Cathy Lucas, Howard Grossman, Robert Aiken, Gene Clark, Peter Jason, Larry Jackson, Cassie Yates, Benny Rubin, Henry Jaglom, Paul Mazursky, Curtis Harrington, Claude Chabrol, Stéphane Audran, George Jessel, Angelo Rossitto, Richard Wilson, Cameron Crowe, Leslie Moonves, Orson Welles, Frank Marshall, Mike Ferris, Eric Sherman, Felipe Herba, Paul Hunt, Bill Weaver, Mark Turnball, Cathy Luvas, Gary Graver, Rich Little

Regie:Orson Welles, Sally Stringer

Kamera:Gary Graver, Eric Sherman, Bill Weaver, David Atkins

Autor:Orson Welles, Oja Kodar

Musik:Michel Legrand, Carter B. Smith Jr.
Für diesen Film gibt es leider keine Vorstellungen.